Making a Pearl Powder facial a regular part of your skin care regimen will help you get faster, better, longer-lasting results. Your dream for beautiful, radiant skin is possible with a Luxury Pearl Powder facial. Not only are facials necessary for maintaining healthy skin, they are also a wonderful way to relax.

No other Facials in the world are able to do what these Amazing facials can do. They offer a truly unique, elevated experience - The results are shocking, addictive and undeniable.

Discover IT! Believe IT! Love IT!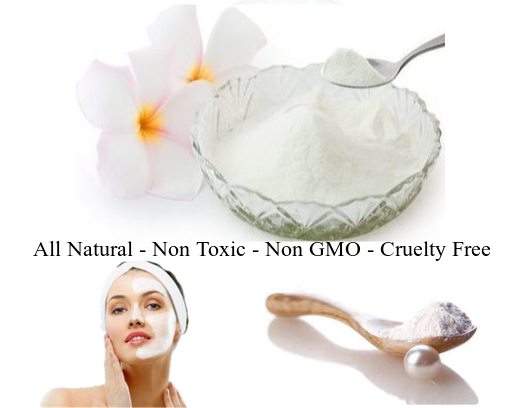 It only takes 15 minutes in the comfort of your own home to achieve beautiful, flawless skin. These all natural facial treatments are a non-abrasive, noninvasive, painless method to exfoliating both the face and body to remove top layers of dead skin so moisturizers and serums can penetrate deep within the cells. They draw toxins and impurities from the skin, flushing out the poisons lurking below the surface.

Pearl Powder contains 17 essential Amino Acids, including Histidine (essential for tissue growth and repair), Antioxidant's, protein, magnesium carbonate, calcium phosphate, ferric oxide, silica, a multitude of vitamins, and a wide range of minerals that readily absorb into your skin. Pearl Powder acts like keratin to repairs damaged skin cells, re-hydrates skin cells, reduces free radical damage, promotes skin cell metabolism, and increases circulation for clear radiant skin.

The secret ingredient in pearl is Conchiolin which are complex proteins, that converts into collagen and combines with Epidermal lipids, important factors in the skin's moisture balance. It forms a cement-like barrier to prevent water from escaping which retains the skin's moisture balance, leaving a beautiful illumination on the skin, and leaves your skin soft as a babies-bottom.

Our Authentic Pearl Powder stimulates the production of collagen and elastin, and accelerates the repair of damaged skin cells and cellular metabolism. You will visibly see an immediate effect after just one facial: your skin is instantly softer, feels exfoliated, and a reduction of fine lines, wrinkles, crow's-feet, spots and skin discoloration. Pearl absorbs deep into the skin cells repairing, regenerating, and stimulating collagen and elastin synthesis.

Our Pearl Powder is safe for all skin type and all ages. Used on a regular basis, your collagen and elastin production will be kept at a high level, leading to much healthier skin and less wrinkles and blemishes.

Pearl also treats acne, rosacea, eczema and other unwanted skin conditions. It is easy to do this efficacious facial and get an exclusive, Top Shelf, facial in the comfort of your own home. If your desire is to look young - if you want soft, ageless skin with a luminous sheen, Pearl Powder is the secret for a new, beautiful you.

What Can A Pearl Powder Facial Do For Me?

Pearl Powder gently polishes the skin and removes and clean obstacles that clog enlarge pores. It fades acne scaring, lightens and evens out skin tone, eliminates white heads and black heads, reduces large pores and revitalize dull skin. It cleanses dirt, oil and makeup and kills bacteria for cleaner, younger looking skin.

Failing to exfoliate, dead skin blocks new skin growth, prevents pores from expelling bacteria, and obstructs skin care products from absorbing into the skin. Pearl Powder is the most gentle and effective facial on the market today. 100% Natural - 100% Safe.

After your facial treatment your skin will feel as soft as doctor's cotton and as smooth as silk. Years will be removed from your face and your makeup will glide on easily and smoothly!

Pearl Powder is good for all skin types and works to normalize skin as it should be by allowing skin to detoxify, and by removing this unwanted lining, it lifts the weight on the facial skin (this weight on the face causes skin to sag and jowls to droop which in turn causes excess wrinkles).

Always remember. Consistency is the Key. If you don't use it regularly, 1 to 2 times a week (not more), it will not work effectively.

If you are a spa owner looking to sell high quality products in your own spa, this premium powder is a must for you.

Treat yourself like Royalty and Give yourself the ultimate facial treatment today. You'll be glad you did.


The Perfect Basic Facial: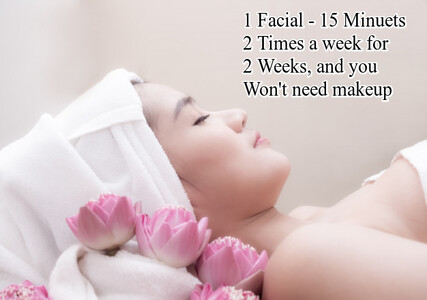 I use this facial more than any other. Why? Because it leaves my skin powder-puff soft and glowing. It is Absolutely Amazing. It is so easy and leaves you with a WOW effect. If you don't want to spend much time and want your skin to look fabulous, this facial is for you.

Ingredients

1/4 tsp pearl powder (a little more if needed)
Few drops warm water

Directions

Mix to make a paste. Apply to face and neck. Leave on for 15 minuets, wash off with with warm water. Let air dry. Do this once or twice a week, and you can have a much younger looking face continuously.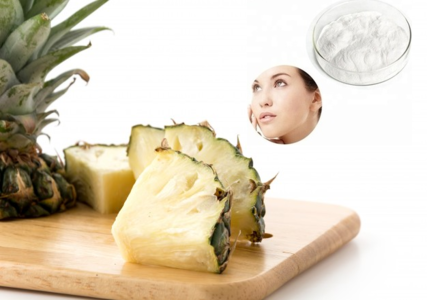 Pearl Pineapple Facial Mask


Both Pearl Powder and Pineapple are packed with natural enzymes that gently remove dead skin cells. They both contain alpha-hydroxy acids which naturally removes dead, dry skin, encourages new skin cell growth and stimulates collagen production. Pearl Powder and Pineapple both are potent antioxidants and high in vitamin C that reduces free radical activity.

This Pearl Pineapple Facial Mask leaves skin silky smooth, radiant, firm, and gorgeously glowing.

This is a quick and easy facial treatment, and the results are dramatic.

Ingredients

1/2 Tsp Pearl Powder
1 tablespoon fresh pineapple puree



Instructions

1. In a blender, puree pineapple until smooth.

2. In a small bowl mix the pineapple puree and pearl powder to a smooth paste like constancy.

3. Cleanse your face.

4. Apply to decolletage (face, neck, chest) avoiding the eye area.

5. Leave it on for 10-15 minutes. If you have sensitive skin start with 5 minutes, max.

6. Wash off with lukewarm water and let air dry.

7. Follow with a good hydrating face cream.

Use no more than once a week and always apply a moisturizer afterwards.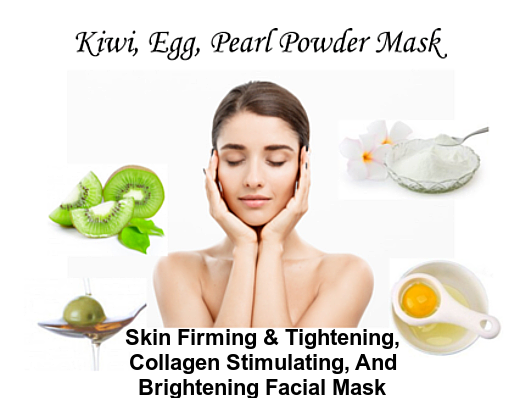 When it comes to firming and tightening the skin, Kiwis combined with egg and Pearl Powder work wonders. Kiwis and Pearl powder are collagen stimulating, and rejuvinate the skin cells. The powers of antioxidants, Vitamin C, Vitamin E, folate, and phytonutrients in both Pearl Powder and Kiwis influence how cells age and fight signs of skin aging by boosting collagen production. Egg has skin tightening and skin-clearing properties.

Pamper your skin with this DIY natural Kiwi, Egg and Pearl Powder Mask. You will absolutely love this.

You Will Need

1/2 Tsp Pearl Powder
1 Tbsp kiwi pulp (scoop half kiwi and mash)
1 Tbsp olive oil
1 egg yolk

Instructions

1. Cleanse face and pat dry.
2. Mix the kiwi pulp and pearl powder with olive oil.
3. Add egg yolk and stir well.
4. Apply it to your face and neck and lean on for 15 minutes.
5. Wash off with warm water.

This face mask will improve your complexion, tighten pores, and give you soft glowing skin.

Acne and Rosacea

1/2 Tsp Pearl Powder
1 tsp pure Aloe Vera gel (use 99% pure)
A few drops of water

In small cup or bowl add pearl powder, enough water to make a paste. Apply all over face your face, under eyes (not lids) and leave on for 15 minutes. Rinse.

Pearl Powder Egg Mask

Pearl Powder is a great anti-inflammatory agent, which helps to relax and calm the skin. Egg white is composed of 83% water and 40 different types of protein.

1/2 Tsp Pearl Powder
2 tsp egg white

Egg whites have astringent properties that help shrink pores by tightening the skin. Before applying, first wash your face gently with warm water and pat dry with a soft towel.

Next, Whisk egg white in bowl. Mix 2 tsp of foamy egg white and 1/4 tsp pearl powder together. Apply to your entire your face and neck (do not get in your eyes). Leave on for 15-20 minuets. Gently wash off with tepid water. Let air dry.

You can add 1 tsp raw honey to egg mixture to nourish and moisturize aging skin.

If you don't want to waste the remainder of egg white add 1/4 tsp pearl powder, mix and slather it all over your hair. Cover your hair with a shower cap to prevent drips and sit back for 10 minutes. When the time is up, rinse off thoroughly and let your hair dry naturally. Your hair will look shiny when dry which is one of the magical properties of egg white and pearl powder combined!

Milk and Pearl Powder

This facial is for Dark Spots, Freckles, Pigmentation's, Melasma, etc. Promote cell renewal and regulate skin discoloration. Hydrates the skin and exfoliates.

Mix 1/2 tsp Pearl Powder in small bowl, then add a small amount of milk to make paste. If you prefer a thicker mask, add some honey. Next, wash your face with warm water and apply mixture to face and neck. The places with pigmentations, dark spots, freckles, melasma etc, apply a little more and massage into those spots with your fingers. Wash the mask off after 15-20 minutes with warm water.

Use this method once or twice a week, but for dark spots, age spots, pigmentation's, melasma etc., apply on spots every night before you retire.

Oily Skin

Put 1/2 teaspoon honey and 1/2 teaspoon of pearl powder in a bowl and mix to a paste. Apply and leave for 15 minutes.

Dry Skin

Mix 1/2 tsp pearl powder with enough olive oil to form a thin paste. Apply to clean, dry skin. Leave on for 15 minuets and rinse with warm water.

Mixed skin

In bowl or cup put 1/2 tsp pearl powder and enough milk to make a paste. Leave on for 15-20 minutes.

Skin Lightening Facial

Use this mask for dark spots, age spots, skin lightening and brightening.

Ingredients:

1/2 Tsp Pearl Powder
2-3 tbsp rice porridge, yogurt, or milk
1 tbsp raw honey

Directions:

Place pearl powder and raw honey in a small bowl of rice porridge, yogurt or milk and mix well.

Apply facial mask onto clean, dry face, avoiding the delicate eye area.

Lie down and relax for 15-20 minutes. It will tingle and feel warm as it removes dead cells. Rinse thoroughly with warm water. Pat dry with a soft towel. Apply moisturizer.

You may also put a dab of pearl powder dry on your dark spots, leave on overnight, wash off in the morning. Do this every evening until the spots have diminished. During the day, apply dry to dark spots, leave on for an hour or two, then wash off.

Banana Facial Mask

1/2 Tsp Pearl Powder
1/2 very ripe banana
2 tsp butter
2 tsp green tea

Use back of a spoon and mash banana. Add butter, pearl powder and green tea and mix together. Apply the mixture on your face and leave for 15-20 minutes. Wash off with warm water.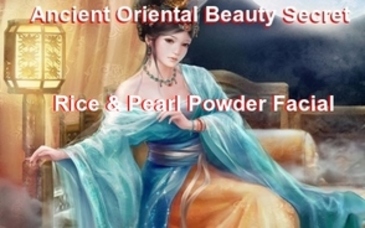 Ancient Oriental Facial Mask


The Oriental are known to be long-standing people, and their women have always been considered to look beautiful and youthful, even at older ages. That is all cause of their secret. Their secret lies in the healthy properties of both pearl powder and rice. Rice and Pearl Powder are loaded with healthy nutrients, such as linoleic acid and squalene, which are powerful antioxidants that stimulate collagen production, which reduces and prevents the appearance of skin wrinkles. This treatment works as a miracle cure!

Try this facial mask and see for yourself. This ancient Oriental facial mask recipe will smooth your wrinkles and rejuvenate your skin. You will see an immediate difference in the look and feel of your skin.

This facial is very simple and easy to make. You just have to follow the simple instructions.

Ingredients

1/2 Tsp Pearl Powder
1 tbs. of honey
3 tbs. of rice
1 tbs. of milk

Directions:

Put 3 tbs. rice in a pan with 1 cup of water. Boil, then let it simmer for 3 minutes. Remove from heat, let cool and strain mixture. In glass bowl, add boiled rice, honey, warm milk, and pearl powder. Mix ingredients, until it's like a paste.

Next, Cleanse your face and apply this facial mask on your face and massage gently in circular motions. Leave on for 15 minutes, then wash off with warm water.

Use this mask once a week. You will be amazed by the results.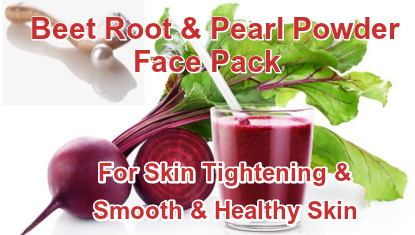 Beet Root & Pearl Powder Face Pack

Beetroot & Pearl Powder face pack is considered one of the best anti-aging packs. Both Beetroot and Pearl Powder are rich in skin enhancing antioxidants, vitamins and minerals, that prevent premature aging ,helps maintain the elasticity in skin and makes your skin soft and supple. These two anti aging superfoods are a wonderful solution for many skin problems like wrinkles, fine lines, dark spots and acne.

To prepare a face-pack, take beetroot, star anise, pearl powder and water to make the anti-aging face pack.

Peel and cut beetroot, take 2 to 3 slices grind and get the extract. Crush star anise and boil it water. Strain and keep the boiled water. Put 1 tsp pearl powder in bowl, add 2 tsp beetroot extract and 1 tsp star anise water. Mix well. Apply it to your face and neck. Let dry for 15 to 20 minutes. Rinse it off with lukewarm water. You will notice an instant pearlescent glow and radiant skin. Repeat this twice a week to get beautiful, ageless skin.

Or, Make Beetroot and Pearl Powder Juice. Take a beetroot and trim the ends. Rinse under running water and make sure you clean the skin well in order to extract maximum nutrients. Cut into small pieces. Add the pieces and 1/4 tsp into your juicer, and juice. Pour juice into a serving glass and chill for 30 minutes. Add salt if you like to enhance the taste.

Note: Do not strain the pulp of the beetroot as you will be losing out on essential nutrients.

This drink can lower blood pressure within one hour after drinking.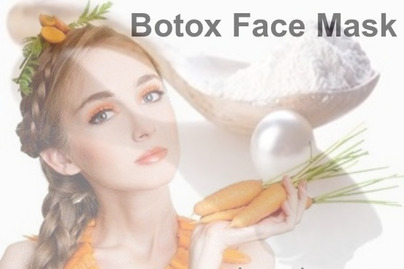 Botox Face Mask

This homemade face mask leaves skin smooth, firm and elastic. It has the same effect as a Botox treatment. Try it now and see the amazing results!

Ingredients

1/2 Tsp Pearl Powder
1 tbsp. cornstarch
5 tbsp freshly squeezed carrot juice
1 tbsp. yogurt

Directions:

Boil 1 cup distilled water. Add cornstarch to water and let simmer until thickened. Let cool at room temperature. Add pearl powder, 5 tbsp carrot juice and yogurt. Mix well.

Apply the mask on clean face and neck. Leave it on for 20-25 minutes, then rinse with warm water and let dry. Apply a good moisturizing cream. I suggest using Sarah's Deep Winkle Pearl Cream. The remaining mixture should be kept in the refrigerator.

Apply mask twice a week to achieve astonishing results.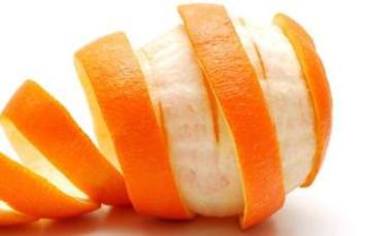 Skin Brightening

Pearl Powder is a natural skin brightener. It leaves an instant illuminating glow to the skin, giving a more natural radiance and brightening effect.

Dried orange peels, pearl powder, and yogurt brightens the skin. If your skin looks waned and feels rough to the touch, you need a brightening technique. This skin brightener nourishes tired fatigued skin by evening out skin tone and smoothing skin texture, and leaves a permanent glow. Your skin will look brighter and more awake in no time!

Place orange peels under hot sun until they turn dry and crisp. Then, grind the peels into powder. Mix orange powder with 1/2 tsp pearl powder. Add 1 tbsp fresh yogurt to make a paste. Apply over cleansed face and leave on for 20 minutes. Repeat this twice a week.

Brighter Glowing Skin

Mix 1/2 tsp Pearl Powder with a few drops of lemon juice and coconut oil. Apply to the face, let sit for 15 minuets, and rinse with lukewarm water.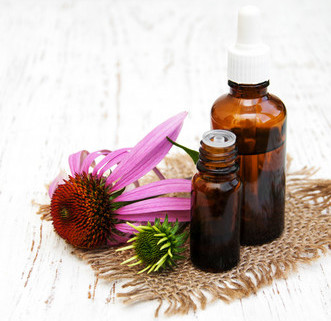 Glow-Enhancing, Even-Toning, Complexion Restoring Facial Massage Oil

Ditch expensive store-bought facial oils and make your own Homemade Facial massage Oil! It's so easy to make and it's a wonderful way to nourish your skin!

Ingredients:

1/2 Tsp Pearl Powder
2 drops Jojoba Oil or Sweet Almond Oil
2 drops Fractionated Coconut Oil
2 drops Carrot Seed Oil
3 drops Rosehip Oil
3 drops Frankincense Oil

Instructions

In a small dark bottle add essential oils to a carrier oil and shake well.

Wash your face, and put a few drops of oil onto your fingertips. Gently massage into your skin in small circles, moving your fingertips upward and outward.


| | |
| --- | --- |
| | |
Guava Leaves & Pearl Powder For Wrinkles
Worried about the wrinkles, acne, blemishes, allergies or dark spots on your face? Well, you don't need to get any chemical treatments to get rid of them. An easy and natural remedy for this is pearl powder and guava leaves.

Pearl Powder, is the Mother, or Queen of all Beauty herbals. And Guava has managed to showcase its amazing health benefits, especially when it comes to skin treatment. The fruit is filled with nutrients like vitamins A and C, and minerals, namely copper, magnesium, and manganese. Guava has more Vitamins, Minerals And Potassium than oranges, or bananas. The leaves are a powerhouse of antioxidants like Vitamin C, and flavonoids such as quercetin.

Combining these two power antioxidant Superfoods together, boosts skin cell reproduction, thus diminishes wrinkles and aging skin.

Directions

Both Pearl Powder and Guava leaves contain antioxidants which destroy the free radicals that damage your skin, thus protecting your skin from aging as well as improving skin tone and texture.

Finely Mash guava leaves (I use a coffee grinder to a powder). Put 1/2 tsp powdered leaves into small bowl or cup. Add 1/2 tsp pearl powder and enough water to make a paste. This makes the ideal scrub. Apply the mixture to your face and neck, and let sit for 15-20 minuets. Wash off with warm water, let air dry. Be careful not to get any into your eyes. Repeat once a week.

So, bid adieu to fine lines and wrinkles and say hello to a firm, supple glow.


For Acne, Black heads, And Dark Spots

Both High Quality Pearl Powder and Guava leaves fight bacteria and have anti-inflammatory properties. The anti-bacterial quality of the Guava leaves makes it difficult for any germs to enter your skin and cause acne. Additionally, the skin becomes smooth with regular application thereby making the pimples disappear. Furthermore, pearl powder and guava leaves are also reliable when it comes to skin reactions and allergies.

This dynamic duo can decrease the appearance of acne.

To make a pearl powder guava leaves wash, mash a handful of leaves to a powder. Add 1/2 tsp guava leaf powder to 1/2 tsp pearl powder and enough distilled water to make a paste. Put some on the effected areas. After 10 to 15 minutes, rinse with lukewarm water. Repeat the process twice a week.


Atopic Dermatitis

To prepare the guava remedy you need a handful of dried leaves. Add them to a pot of boiling water. When the water turns brown, remove from the stove, and let the solution cool down. This will let it become more concentrated. Then, put 1/2 tsp pearl powder in bowl, add enough quavel leave liquid to make a paste. Apply the paste over the affected area with a cotton pad. After 15 minutes rinse with clean water. Repeat the process twice a week and you will see the allergic reaction disappear.

Now, you can finally bid goodbye to all the wrinkles, irritation, redness, or acne that have been troubling you for ages. No more expensive beauty treatments and harsh chemicals that damage your skin, wallet, and morale. Bring some guava leaves into your skincare regime, and you're sorted! Just remember that consistency is the key to natural remedies. Stay beautiful!

NOTE:

Apply a good super-hydrating moisturizing cream when finished. I suggest Sarah's Luxury Pearl Cream - Absolutely divine.

Once you experience these Posh, Luxury Pearl Powder Facials, your skin will never be the same again.


| | |
| --- | --- |
| Freshwater Pearl Powder | Seawater Pearl Powder |

J. M. Santa Clara, CA.
"I love the pearl powder! I used it last night with jojoba oil spread all over my face and woke up this morning looking like I have makeup on."



P.N, LA
I just ordered another 2 kgs of your pearl powder. I own a beauty business and I love your pearl powder so much, I use it in all my cosmetics and have designed a tooth paste containing your pearl powder. I am so happy with it and the information contained in your website, that when my customers have a question about it, I send them to your website. You have been a blessing to me.



EV, Wyoming
I just opened up your pearl powder, since I was finishing up another brand that I had already purchased. The texture of your pearl powder is much better than anything else I have used. It absorbs right into the skin. I really love it. I replaced all of my cosmetics with your pearl powder.



S.A. MO
The very first time I gave myself a mask I was amazed at how soft and silky my skin became, after the first application. Everyone says my skin looks Fantastic. My wrinkles softened, and the tone and texture is amazing. I love Pearl Powder, I just wish I had found it earlier in my life.



J, LA - Basic Pearl Powder Facial Mask
Oh! That face mask is Great! I will be using this twice a week for sure.