Who doesn't love a Trifle, with its creamy filling, variety of scrumptious flavors and its showstopping looks. And there is nothing trifling about this decadent dessert that makes its spectacular entrance, with a yummy yogurt cream, french toast, caramel sauce, and cherries. It's relatively easy to make and healthy, too, and is sure to be a winner at your next breakfast or brunch get together or celebration.

Originating from England, trifle is layered with sponge cake, custard, fruit, jelly and cream. There are loads of variations and flavors of trifle, so there's room to be creative. Traditionally it is made in one large glass trifle bowl, but can be made in individual glasses, too, like this one.

Instead of cake, or lady fingers, this trifle calls for french toast, then layered with cherries, and a delicious yogurt cream. This Pearl Cherry And Cream Trifle Breakfast will titillate your taste buds, and you'll dance and sing to a new tune.

This delightful Trifle is filled with protein and a host of other vitamins and minerals, too, thanks to the deep sea's treasure - Pearl Powder. It is because of Pearl Powder that you'll get all the health benefits your body requires.

This trifle is a must have weather you want to celebrate yourself at breakfast, with friends on a early morning picnic, or on a holiday.

Pearl Cherry And Cream Trifle Breakfast

Serves 4

Ingredients for Yogurt Cream:

1 tsp Pearl Protein Powder
1 (8 ounce) package cream cheese, softened
1 cup vanilla Greek yogurt
1 cup of heavy cream
1/4 cup sugar
1⁄2 teaspoon almond extract
2 cups ripe bing cherries, or fruit of choice

Ingredients For French Toast:

4 pieces of Texas Toast
2 eggs
1/8 tsp cinnamon
1/8 tsp nutmeg
1/8 tsp granulated sugar

Ingredients For Caramel Sauce:

This healthier caramel sauce is unbelievably easy to make! It will last about one week if stored in the refrigerator in an airtight container.

1 cup fresh pitted medjool dates (about 10)
3/4 cup + 2 tbsp water

Medjool dates are deep amber-brown and have a slightly crinkly skin that shimmers from natural sugar crystals. They can be found at most local Walmart stores, otherwise you can buy them there online.

Instructions For the French Toast:

1. Crack the eggs and place them in a medium sized bowl and whisk well. Add cinnamon, nutmeg and sugar, and whisk again well.

2. Dip one piece of Texas Toast at a time into the eggs, then turn over and cover with egg mixture completely.

3. Place the toast onto a buttered skillet on medium heat. Cook until the bread is firm and browned.

4. Cut french toast into small pieces.

Instructions For Yogurt Cream:

1. Place mixing bowl in the fridge 5-10 minutes before starting.

2. Beat the cream cheese and yogurt on medium-high speed for 2-3 minutes until smooth. Scrape down the sides of the bowl occasionally.

3. Slowly drizzle in the heavy whipping cream and continue beating until the mixture resembles a liquid mixture.

4. Continue to add the remaining whipping cream and beat on medium-high speed until peaks start to form.

Add sugar, almond extract, and pearl powder, and beat until thick and creamy.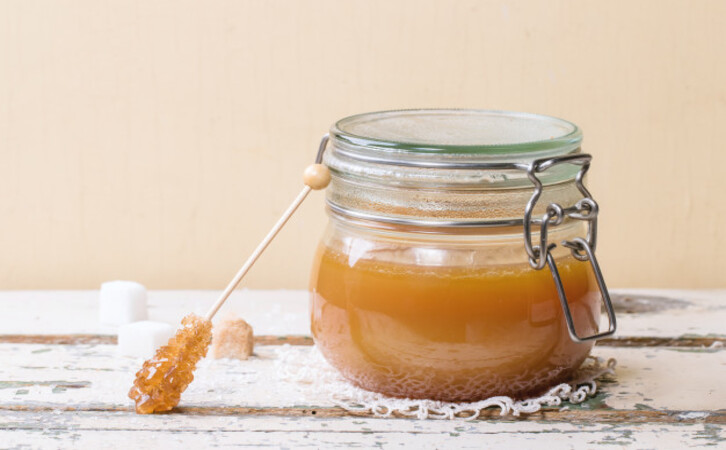 Instructions For Caramel Sauce:

1. Add the dates and 1/4 cup of water to a high-powered blender. Blend until fully combined. 2. Gradually add more water, 2 tbsp at a time, until the sauce is smooth and reaches the consistency of honey.

Note:
Most medjool dates still have the pits inside, but can easily be removed! Do not use dried medjool dates; the caramel sauce will not have the same smooth consistency.

If you prefer to buy the caramel sauce, buy fat-free.

Assemble The Trifle:

1. Place a layer of french toast chunks in the bottom of individual fancy glasses.

2. Drizzle caramel sauce over the toast.

3. Add cherries and spread out evenly, layer the yogurt cream.

4. Repeat with 2 more layers, and make your yogurt cream the final layer.

5. Refrigerate immediately.

6. When ready to serve, garnish with cherries.

Serve for breakfast, snack, dessert, or at your next party.

And have a grand ole time.

Back To Recipes >>>>



| | |
| --- | --- |
| Seawater Pearl Powder | Freshwater Pearl Powder |